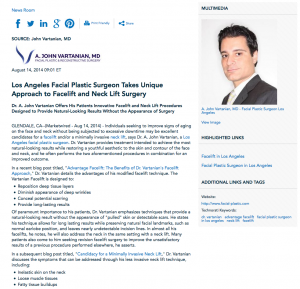 Dr. A. John Vartanian offers his patients innovative facelift and neck lift procedures designed to provide natural-looking results without the appearance of surgery.
Glendale, CA — Individuals seeking to improve signs of aging on the face and neck without being subjected to excessive downtime may be excellent candidates for a facelift and/or a minimally invasive neck lift, says Dr. A. John Vartanian, a Los Angeles facial plastic surgeon. Dr. Vartanian provides treatment intended to achieve the most natural-looking results while restoring a youthful aesthetic to the skin and contour of the face and neck, and he often performs the two aforementioned procedures in combination for an improved outcome.
In a recent blog post titled, "Advantage Facelift: The Benefits of Dr. Vartanian's Facelift Approach," Dr. Vartanian details the advantages of his modified facelift technique. The Vartanian Facelift is designed to:
● Reposition deep tissue layers
● Diminish appearance of deep wrinkles
● Conceal potential scarring
● Provide long-lasting results
Of paramount importance to his patients, Dr. Vartanian emphasizes techniques that provide a natural-looking result without the appearance of "pulled" skin or detectable scars. He states his technique allows for long lasting results while preserving natural facial landmarks, such as normal earlobe position, and leaves nearly undetectable incision lines. In almost all his facelifts, he notes, he will also address the neck in the same setting with a neck lift. Many patients also come to him seeking revision facelift surgery to improve the unsatisfactory results of a previous procedure performed elsewhere, he asserts.
In a subsequent blog post titled, "Candidacy for a Minimally Invasive Neck Lift," Dr. Vartanian discusses the symptoms that can be addressed through his less invasive neck lift technique, including:
● Inelastic skin on the neck
● Loose muscle tissues
● Fatty tissue buildups
Candidates for either of these procedures often experience indications of aging on both the face and the neck, he says. By combining the two procedures, he adds that the entire face from brow line to lower neck can be rejuvenated for a more comprehensive result. Recuperation may take as little as a few days for one procedure and a week for two, but individual experience varies. Dr. Vartanian reminds patients that some light bruising and swelling in the treated area is normal.
Ultimately, Dr. Vartanian aspires to perform enhanced facial rejuvenation treatments that restore his patients' youthful appearance without visible signs of surgery. His custom facelift and neck lift procedures are two options that offer long-lasting, natural-looking results.
About A. John Vartanian, MD
After concluding his undergraduate studies at University of California, Irvine, Dr. Vartanian earned his medical degree from the University of Illinois at Chicago Medical Center. He remained at the Chicago Medical Center to complete his head and neck surgery residency training as well as his general surgery internship. Dr. Vartanian also furthered his education by participating in the UCLA-affiliated facial plastic surgery fellowship at the Lasky Clinic in Beverly Hills, California under the tutelage of Dr. Frank Kramer — one of the highest levels of facial plastic surgery training approved by the American Academy of Facial Plastic & Reconstructive Surgery. When not at the office, Dr. Vartanian provides instruction to physicians-in-training at both UCLA and USC. He is available for interview upon request.
For more information about the facial rejuvenation procedures available at Dr. Vartanian's practice, visit facial-plastic.com or facebook/dr.john.vartanian.
Contact:
Dr. A. John Vartanian
Facial Plastic & Reconstructive Surgery
520. E. Broadway Ave. Ste. 200
Glendale, CA 91205
(818) 662-0600
Rosemont Media
tom@rosemontmedia.com
(858) 200-0044
www.rosemontmedia.com