Otoplasty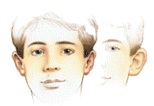 Children and adults alike can be self-conscious and unhappy about the size and shape of their ears. Prominent, protruding ears can look unnatural and can become subject to public commentary. By three to four years of age, children begin to recognize differences in their ears from that of their peers. Often, unfortunate remarks like "dumbo ears" or "bat ears" are sometimes used to describe the prominent or protruding ear. At six to ten years of age, these negative descriptions can begin to leave psychological scars. Children and adults with prominent ears may become hypersensitive about their ears and suffer from a poor self-image. By some estimates, prominent ears affect approximately 5% percent of Caucasian children, higher in some ethnic groups. Usually, children are born with prominent ears – and often it is a familial trait.
Otoplasty (surgery designed to change the shape of the ear) from our facial plastic surgeon, Dr. John Vartanian, can be a great option for children and adults interested in reducing the size of their ears and setting them back to a more natural position. Through a minor surgical procedure, the ears can be set back a more ideal position and appearance. There is typically little discomfort involved, and children can resume a fairly normal schedule within a week. There is no risk to the patient's hearing from otoplasty or to the function of the ear. It is best to undergo this procedure around five to six years of age or older. At this age, the ear has achieved at least 90% of its adult size, and children seem to be more cooperative than they are at younger ages. Most importantly, the intervention is early enough to prevent the damaging effects of potentially cruel social remarks. Incision lines are well-hidden behind the ears and are essentially invisible.
In adults, otoplasty can also be performed in the office under local anesthesia, and they can usually return to work in a couple of days. Dr. Vartanian combines several well-established otoplasty techniques to provide natural-appearing ear correction results.
Dr. Vartanian can also fix torn earlobes and widened earring holes. Other ear procedures Dr. Vartanian can perform include reducing the size of earlobes, plumping up wrinkled lobes, and correcting earlobe scars.
Benefits of Otoplasty
Prominent ears generally protrude from the head and can often cause an unbalanced appearance. Otoplasty can restore a natural positioning for your ears and help make your facial features look more proportioned. Any scarring from the incision points will be virtually undetectable, as they are well hidden behind the ears and in the natural creases where the ears meet the sides of the head. The surgery has minimal discomfort and has no effect hearing.
By age six, ears have generally achieved about 90% of their adult size. If your child has noticeably prominent ears, it is best to have them undergo ear surgery at an early age to avoid the effects of negative social remarks.
During a post-operative consultation, Dr. Vartanian will listen carefully to your goals, and he will select techniques that best meet your aesthetic needs.

The Otoplasty Procedure
Dr. Vartanian will often combine a number of techniques to ensure you achieve optimal results. He generally conducts all incisions behind your ears in an effort to keep them as hidden as possible. For ear pinning, Dr. Vartanian will typically use sutures to pin back the ears. If necessary, cartilage will be extracted to provide an improved shape.
The surgery will take about one to two hours, depending on your specific needs, and can be performed under general anesthesia, or in the office. As an outpatient procedure, you will be able to return to your home on the day of your operation.

Recovery from Otoplasty
Children will typically be able to go back to school after about one week, whereas adults can often return to work after a few days. Bruising and swelling in the first few days following the procedure is not uncommon, and any discomfort can be managed with medication. Dr. Vartanian generally recommends that you refrain from physical activity for at least two weeks.
Downtime following ear surgery often varies, and Dr. Vartanian will discuss what to expect with you in more detail following your procedure.

What to Expect
Length of procedure? On average, otoplasty takes about one to two hours.
Who performs the procedure? Dr. Vartanian performs all surgeries himself.
What should I expect during recovery? Children can generally return to school after one week, and adults can typically resume their working routines after a few days or less.
What about results? Results can be very long-lasting and natural-looking. All incisions are placed behind the ears to conceal any scarring.

Schedule Your Otoplasty Consultation
To determine if you or your child is a candidate for otoplasty, please contact Dr. Vartanian to schedule a consultation. Our friendly staff will answer any of your questions and assist you any way we can.