Los Angeles Facial Plastic Surgeon Details Benefits of Eyelid Rejuvenation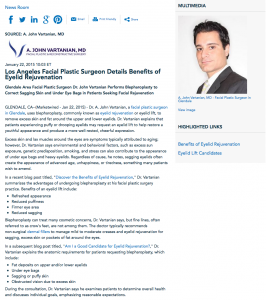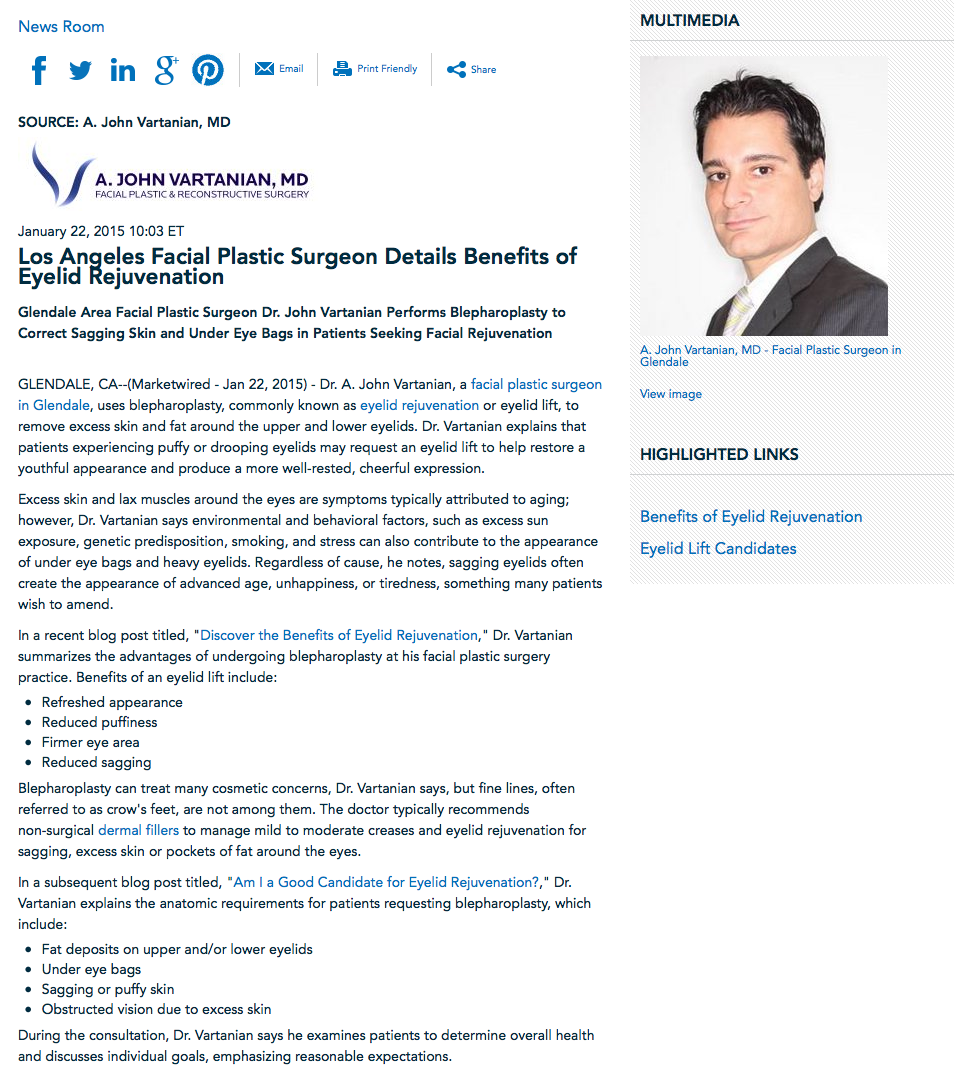 Glendale area facial plastic surgeon Dr. A. John Vartanian performs blepharoplasty to correct sagging skin and under eye bags in patients seeking facial rejuvenation.
Glendale, CA—Dr. A. John Vartanian, a facial plastic surgeon in Glendale, uses blepharoplasty, commonly known as eyelid rejuvenation or eyelid lift, to remove excess skin and fat around the upper and lower eyelids. Dr. Vartanian explains that patients experiencing puffy or drooping eyelids may request an eyelid lift to help restore a youthful appearance and produce a more well-rested, cheerful expression.
Excess skin and lax muscles around the eyes are symptoms typically attributed to aging; however, Dr. Vartanian says environmental and behavioral factors, such as excess sun exposure, genetic predisposition, smoking, and stress can also contribute to the appearance of under eye bags and heavy eyelids. Regardless of cause, he notes, sagging eyelids often create the appearance of advanced age, unhappiness, or tiredness, something many patients wish to amend.
In a recent blog post titled, "Discover the Benefits of Eyelid Rejuvenation," Dr. Vartanian summarizes the advantages of undergoing blepharoplasty at his facial plastic surgery practice. Benefits of an eyelid lift include:
     Refreshed appearance
     Reduced puffiness
     Firmer eye area
     Reduced sagging
Blepharoplasty can treat many cosmetic concerns, Dr. Vartanian says, but fine lines, often referred to as crow's feet, are not among them. The doctor typically recommends non-surgical dermal fillers to manage mild to moderate creases and eyelid rejuvenation for sagging, excess skin or pockets of fat around the eyes.
In a subsequent blog post titled, "Am I a Good Candidate for Eyelid Rejuvenation?," Dr. Vartanian explains the anatomic requirements for patients requesting blepharoplasty, which include:
    Fat deposits on upper and/or lower eyelids
    Under eye bags
    Sagging or puffy skin
    Obstructed vision due to excess skin
During the consultation, Dr. Vartanian says he examines patients to determine overall health and discusses individual goals, emphasizing reasonable expectations.
Ultimately, Dr. Vartanian offers a number of cosmetic enhancement procedures, including blepharoplasty, to qualified candidates seeking to rejuvenate their appearance. Individuals who wish to restore a bright, welcoming countenance, he says, should first consider the eyes.
About A. John Vartanian, MD
Certified by The American Board of Otolaryngology, Dr. Vartanian specializes in facial plastic surgery. He attended Chicago Medical School and earned his medical degree with honors in combination with a master of science degree in physiology before continuing his education at the University of Illinois at Chicago. He received further training in facial plastic surgery at the Lasky Clinic in Beverly Hills where he completed a fellowship under Dr. Frank Kramer. The accredited program, affiliated with UCLA, is approved by the American Academy of Facial Plastic and Reconstructive Surgery. A co-investigator for multiple FDA studies and recipient of numerous awards, Dr. Vartanian also provides pro bono services at the West-LA Veterans Administration Hospital, UCLA, and USC medical centers where he performs facial reconstructive surgery. Dr. Vartanian is available for interview upon request.
For more information about Dr. Vartanian and his facial plastic surgery practice, visit facial-plastic.com.
Contact:
Dr. A. John Vartanian
Facial Plastic & Reconstructive Surgery
520 E. Broadway Ave. Ste. 200
Glendale, CA 91205
(818) 662-0600
Rosemont Media
(858) 200-0044
www.rosemontmedia.com